WWW.Working!!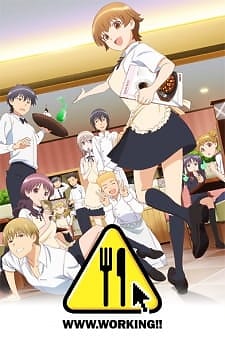 Name : WWW.Working!!
Japanese : WWW.WORKING!!
Type : TV
Episode : 13
Release : Oct 1, 2016 to Dec 24, 2016
Genre : Slice of Life,Comedy
Score : 7.45
Studio : A-1 Pictures
Daisuke Higashida adalah siswa tahun pertama yang serius di Higashizaka High School. Dia menjalani kehidupan sehari-hari yang damai meskipun dia tidak puas dengan keluarga yang tidak tertawa sama sekali dan membuatnya lelah. Namun, perusahaan ayahnya bangkrut satu hari, dan dia tidak dapat membayar tunjangan, tagihan ponsel, dan tiket komuter. Ketika ayahnya memerintahkannya untuk mengambil pekerjaan paruh waktu, Daisuke memutuskan untuk bekerja di restoran keluarga terdekat untuk menghindari bepergian 15 kilometer ke sekolah dengan sepeda.